The chocolate Fountain machine is a great addition to a party or an event. There is no one in the world who doesn't love chocolate! Children, Adults crave for chocolates and having chocolate come out of a fountain is dream come true for little ones. Therefore, hire chocolate fountain machine on rent in Delhi ncr for kid's birthday party events. You can contact us for chocolate fountain rental, chocolate fountain for sale and purchasing chocolate fountain machine.
What is a Chocolate Fountain machine?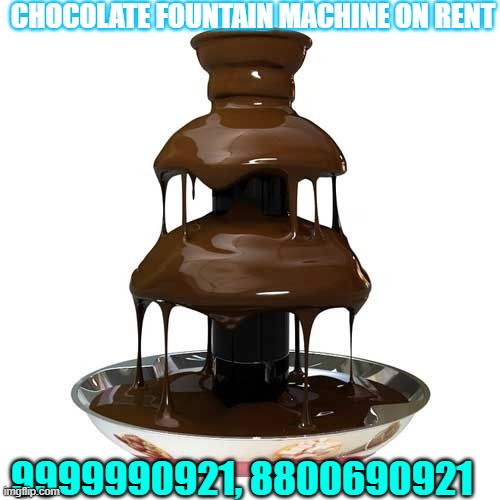 Chocolate Fountain is running chocolate in a machine. Its shape like a fountain and is a fun way to serve chocolate to guests. We can use different toppings like fruits or nuts to the chocolate while serving. It will create a different type of chocolate available for the guests. Different snacks can also be served along with the chocolate which makes it even more tempting.
How to assemble this machine?
Chocolate fountain is nothing complicated and anyone can do it easily.
There are instructions attached to the machine when you rent it from us. We also provide a serving-man who will make and serve the chocolate.
There is an auger tube provided with the chocolate fountain machine which should be attached properly.
Then comes the installation of the auger, which again the serving-man provided by us would do for you.
The test will be conducted before starting the process for better functioning and a smooth party.
You can also decide the chocolate according to your tastes and preferences. You can also choose high-quality chocolate which contains 32-39% cocoa butter as it looks silkier and tastes better.
There is an electric cord attached to the chocolate fountain machine, where the melted chocolate is put into.
Why is Chocolate Fountain Machine best for you?
It is easy to rent chocolate fountain and is the center of attention at a party.
It will take the excitement to the next level in your event.
Easy to take care of and easy on the pocket.
You just need to read the instructions very carefully.
Chocolate is healthy and a mood changer.
Everyone loves chocolate so you don't need to worry if it gets wasted.
You can make it healthier by adding fruits and nuts for little children.
Is Chocolate good for children?
Chocolate is believed to have a lot of calories but it has many benefits too! Everything in excess is bad but if it had in little quantities, chocolate can provide some really good health benefits.
You do not need to feel guilty about having a chocolate fountain on rent at your party. Additionally, It can help your child to reduce the risk of cardiovascular problems.
Chocolate helps in lowering the risk of developing heart disease.
Chocolate also helps in improving athletic performance.
Just make sure you use high-quality chocolate.
Conclusion
Do not feel guilty about having chocolate fountain on rent. Having it occasionally does offer many health benefits.
It is tasty and everyone loves to have the yummy chocolate especially when it is floating!
The chocolate fountain for hire is movable and can be used in indoor/outdoor parties. You can also hire popcorn machine and candy floss machine on rent.
Not only for birthday parties, but this machine can be set up in anniversary / weddings or even in corporate events too.
Wait no more! Rent chocolate fountain machine from us at affordable prices. Have an amazing party in Delhi, Gurgaon, Faridabad, Noida, Ghaziabad.