A very famous Hammer Game that can be seen in game clubs or game centers in malls can now be rented easily. Additionally, Youngsters and children loves this game very much. It is a power tester machine where people can check their power and compete against each other. The game is very easy to play but requires a lot of strength and competitive elements. If you have a themed birthday party for your little ones, this can be the best option for you to make it even more attractive and fun. We are best hammer game provider for rent in Faridabad, Delhi, Gurgaon, Noida, Palwal, Mathura, Agra and in many more cities. Most importantly, Rent hammer game from us at very cost-effective price with Birthday World.
With an increase in technology over time, kids are more interested in playing games on their smartphones or smart tablets. It is very important to engage them in physical activity by hiring hammer game on rent. Hire hammer game on rent for parties and events to make them realize the importance of outdoor games.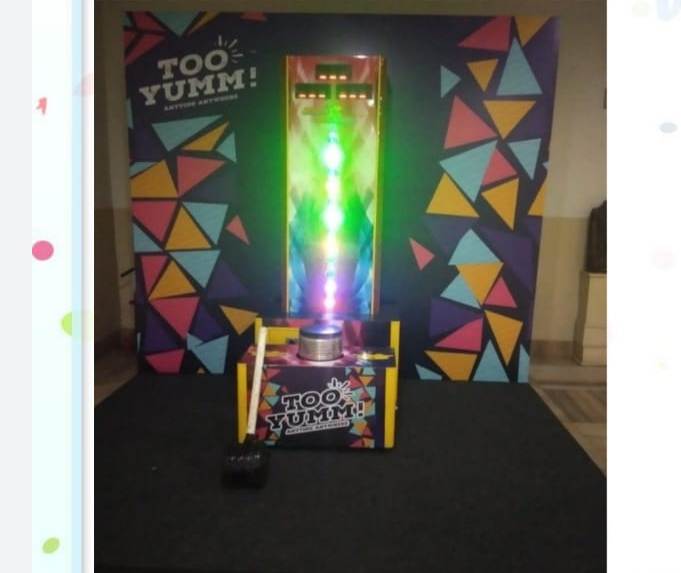 Hammer game helps your kid to enjoy something beyond a smartphone and realize the fun of a real-world! Having a birthday party with fantastic games like hammer game on rent allows going beyond their regular thinking level and try something new and different. Hire Birthday World for rental hammer game for kids party and events.
How to Play the Hammer Game?
People of all age groups can easily play this game. You can have an endless number of competitions for people to show their strength and reveal the power within them.
The hammer game has a height of 7 ft and a width of 2.5 ft.
We can play this game between two people or even two groups.
The score of each individual or group gets displayed on the screen and the person with higher scores wins the game.
No Matter if you have an indoor or outdoor party, this game can be easily fitted wherever you want because it is compact and goes with any theme party.
Features Of This Game:
The appearance of the game is modern and very attractive.
Easy to operate and manage.
High quality with low price is provided by us.
It is hot selling and most wanted in the domestic and foreign markets.
The logo of the game can be customized.
How is this game fun?
Let the fun come to you in your event and party and let the little angels turn into superheroes by hiring Hammer game on rent. Besides that, kids are attracted to Marvel characters.
Every kid nowadays wants to be a superhero no matter if it is batman, superman or even Spiderman.
Thor is the most favorite character of children and they just love to be recognized as one. Hammer is one of the characteristics of Thor and having this Rental hammer game at your party gives every child to live their dream of hitting as hard as Thor. So, rental hammer game is best idea to entertain kids.
Conclusion
Let your children reveal their inner strength and urge to win by playing this fantastic and amazing hammer game.
You can also put different theme competition for this game at your party for more fun and excitement. This gives the children to enhance their skills and learn from good characteristics from superheroes they adore.
Rent Hammer game from us in Delhi Ncr (Delhi, Gurgaon, Faridabad & Noida) at affordable prices. Also, Contact us for more details! We are best hammer game provider on rent in Faridabad & Delhi ncr.
Other Inflatable Games On Rent for Party & Events
Jungle Bouncy On Rent
Castle Bouncy On Rent
3 in1 Inflatable Game On Rent
Tic-Tac Inflatable Game On Rent
Inflatable Football Game On Rent
Inflatable Dart Football Game On Rent