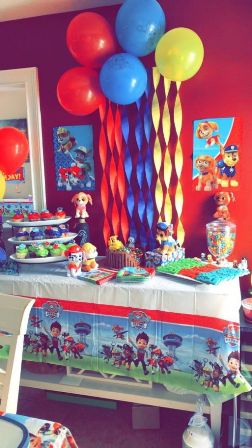 If you are parents of young kids then you must be aware of your kid's passion for cartoons. Young kids are hooked to television screen most of the times watching their favorite characters. Your kids dream of spending good time with their favorite cartoons. It is a dream comes true for them if they celebrate their much-awaited birthday with paw patrol theme party decorations. We can be your paw patrol party planner for themed party.
Birthday is one such day which has very special meaning for all kids. A thematic party adds more colors to your kid's birthday. It may not be very easy to arrange a thematic birthday party on your own. If you are contemplating a thematic birthday party for your kid then get in touch with Birthday Planner.
Paw Patrol Theme
Every kid has some liking for their special cartoon characters. And a thematic birthday party revolving around the same theme will make your kid happy. If your kid draws inspiration from characters then it is easy to organize a thematic party with us. Paw patrol is a group of dogs who are basically into the job of search and rescue.
Furthermore, they work for a special mission of protecting the community of Adventure Bay. Paw Patrol is a very popular cartoon TV series among preschoolers. We are certainly very active and accurate in arranging a theme party for your kid. Let your kid enjoy the Paw Patrol themed party specially designed for him.
Get Best Theme Party Ever With Birthday World
Planning a thematic party for your kid can be tricky as kids are straight forward in commuting their likes and dislikes. If the décor of the party is not appealing your kid will immediately point towards it. As a result, your kid will not have that fun which you are trying to give him.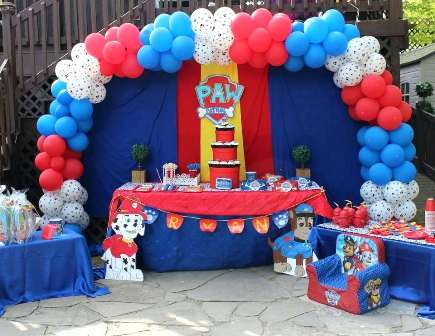 Hence it is important to have the arrangements and décor perfect. As the best party planner in the city, we work closely on every minute detail to make the party livelier. We are certainly the best choice for the best ideas of invitations, decoration, food, games and thematic cake for Paw Patrol Theme.
Fun-filled birthday arrangement
The essence of any theme lies in how we arrange the décor and other elements. First of all, we decorate the entrance gate in the theme. The banner, the entrance, the cake, kid's cap, and overall decoration are enough to indicate towards the theme of the birthday party. We keep theme related accessories like patrol hat, an award ribbon, etc. for the little kids to let them enjoy the theme. Likewise, we arrange the chairs with streamers, tassels, and garlands.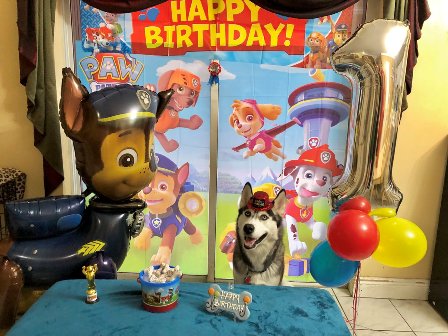 Above all, the kids at the party will deeply enjoy the big Marshal balloons which we place everywhere. We arrange the venue in such a way that the kids will get a feel of entering the Paw Patrol headquarters. With Paw Patrol hats and medals they will nothing less than a team member of their favorite team.
Birthday World
Average rating:
1 reviews
Jul 20, 2019
Paw Patrol Theme
While searching for ideas about paw patrol theme, i found your this article, i liked your ideas to plan this theme. I was also searching for party planner for more ideas but make me sad after checking your address as i am from Pune. Any way, you gave me good ideas.
Thanks