What Does Birthday World Do Being Birthday Party Planner In Faridabad?
Celebrating and reveling in birthdays of our near and dear ones has been a common thing for the past few years. We, birthday party planner Faridabad help you revel in your birthday party with great joy and ease! People easily throw birthday parties particularly when the birthday celebrant is a grownup and earning guy. On the other hand, if the celebrant is a junior kind, parties are typically thrown by their parents or someone in their clan.
In any case, celebrating birthdays has become an indivisible part of our life but to enjoy it to the fullest, it is truly a good idea to hire a professional and well-thought-of birthday party planner. If you are in or near Faridabad then hiring Birthday World, the up-and-coming Birthday Party Planner Faridabad is an idea worth considering.  
We have a lot to offer you for your birthday
We at Birthday World are fast attaining prominence as one of the leading birthday party planners in Faridabad because of our quality and available birthday planning services. As you hire us your birthday party planner Faridabad, we assure you of offering a lot in your bday party.
In short, we can arrange a variety of things such as game shows, music, general and/or inflatable clowns, large and small air-filled balloons, and a variety of cartoon characters. Without these miscellaneous items, a birthday appears less engaging and fun. At our end, it is our incessant effort to include each and every essential item that can maximize the fun and frolic in a birthday party.
Why include themes in your birthday party?
The role theme birthday parties play in enhancing the level of fun and enjoyment in a birthday party is beyond compare! We have a lot of birthday party themes available on our website for you to choose based on your personal preferences and needs.
With a birthday theme, you can readily make the environment vibrant and exciting. It enables you to enjoy the event with enhanced fun. The key factor to keep in mind is that you need to wear dressy clothes that are in sync with the theme.
Birthday theme parties are generally suited to children because of the various colors. We at Birthday World have long started organizing birthday parties with manifold themes. Additionally, themes have come to a trend a few years ago. Therefore, if you want to include a specific fun theme into the birthday party, you can choose from the wide range.
We have included themes in our website or if you cannot choose independently, we can help you in doing so. After all, we are your best birthday party planner Faridabad and offer you very good birthday planning services. 
How Much Does Birthday Decoration Cost For A Party?
There is no such fixed cost for birthday decoration. Minimum price for the decoration may vary among different party planners. Birthday is all about fun, frolic, enjoyment and, of course, decoration. We the best birthday party planner Faridabad can help you hundreds of different items to choose from. Birthday decoration items we have are available in different sizes, patterns, shapes and colors and can fit any theme.
You can choose from fruit baskets, color licorice sticks, streamers, balloons, ribbons and more to decorate your birthday exceptionally well. To put it simply, we have every item that can give you a complete feel.

On our stint, we have truly revolutionized a lot of birthday parties via our world-class decorations. So if you are planning to have a birthday party memorable for a lifetime, we at Birthday World have various amazing decoration ideas. Also, you will cherish and follow instantly.
Does We Offer Boys Birthday Party Themes?
Definitely Yes, Birthday of your junior is undoubtedly the most auspicious day in your life. Therefore, you should try your best to make this day one of a kind. By including birthday themes for him, you can double the fun and joy of the party. As we are your bonafide birthday party planner Faridabad, we help you choose from the following boys themes:

Doraemon theme
Doraemon is a Japanese cartoon character that is presently a rage in the world of cartoons. So, if your junior kid is the birthday celebrant, we at Birthday World, the premier birthday party planner Faridabad, can help you arrange the theme. What this amazing and beautiful birthday party theme, your little celebrant will become an eye candy of every guest!
Chhota Bheem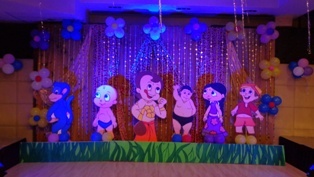 Chhota bheem theme is in great demand among kids for their birthday party celebrations. Also, many kids like chota bheem cartoon character and admire the stories mightily. Therefore, if your junior kid is a fan of chhota bheem, we suggest you choose Chhota Bheem theme.
Disney Theme

Disney is an old cartoon character that we have been enjoying since our childhood. However, it is still a favorite character among many kids today. That said, you can choose the Disney theme party unreservedly for your child.
Does We Offer Girls Birthday Party Themes?
Yes, We also offer themes for girls party as well. If the birthday celebrant is your cute little girl, we have several great birthday themes for girls. We can help you choose the best birthday party planner Faridabad for your little girl. Below are a few themes that you can use for your daughter's birthday:
Princess Theme Party

Including a Princess theme will certainly fit your baby princess and her princely guests very well! Also, before you order us for this amazing party theme, ensure that you consult with us. So that we can help you how to use it properly to create complete fun for your every guest.
Frozen theme party

Frozen theme is coming to the front rapidly in the world of birthday. This theme is fundamentally inspired by the movie FROZEN, a 3D computer-animated comedy film. We the well-recognized birthday party planner Faridabad can help you organize the Frozen Theme in a perfect and fun fashion.
Hire Best Birthday Party Planner in Faridabad
Birthday World, the ultimate birthday party planner Faridabad carries years of rich experience in organizing and decorating birthday parties. We are armed with seasoned birthday planners who will help you organize the party perfectly. They will help from start to finish through their groundbreaking ideas. So, if you really want to make your birthday a real smasher with a truckload of fun and enjoyment. Let the Birthday World, the ultimate birthday party planner Faridabad, organize an exceptional and unforgettable party for your child.